How to use Varnish cache for Magento in Breeze?
Varnish cache is a reverse proxy caching that increase the web site speed by serving the content on behalf of the webserver.
With Breeze, you get Varnish cache for Magento right inside the dashboard. You can enable it in few steps.
Enabling Varnish Cache from Breeze Platform
Follow the steps to enable Varnish cache:
Login to your Breeze platform


Select the Company you like to work on


Click on the 'Sites' to open the site list


Open the Store from the list

Click on the 'Tools' option from the left


Enable the Varnish Cache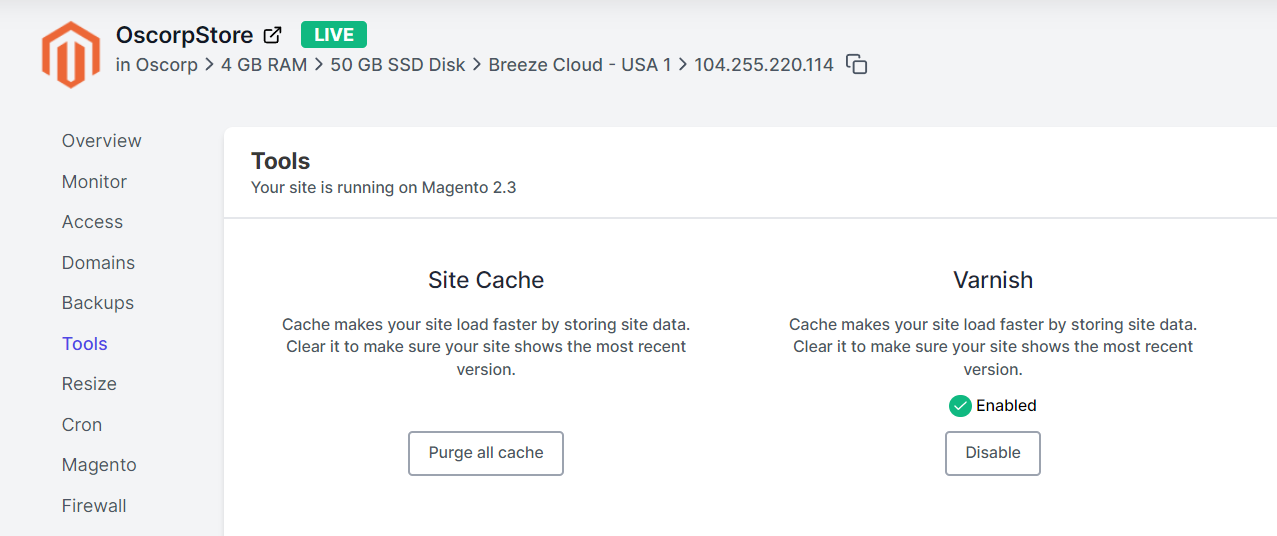 A confirmation box will be displayed after the successful activation.
The toolbox offers other tools too. You can enable Redis cache from here, or flush all the cache of the website.
Though, make sure to take a backup before making any significant changes to the site.
Related Articles

How to purge all cache from Breeze?

Caching makes the site faster by saving and loading content from the cache files. There are many types of caching, like server-side caching, browser caching, or Redis caching. Though caching improves the page speed, but it can show outdated content ...

What is varnish Cache and How it helps Magento?

Varnish Cache is a web application accelerator designed for content-heavy dynamic websites - like Magento 2 stores. It is also known as caching HTTP reverse proxy. Varnish is built to work with HTTP protocol exclusively, whether the store loads on ...

How to make Magento multi store in Breeze?

If you want to expand the business by adding multiple stores under a single administration, Magento multiple stores can help you. You can create multiple stores directory from the Breeze. Follow the steps below: Login to Breeze Platform Select the ...

How to Create a Site on Breeze?

Let's see how to create a store on Breeze in 3 simple steps. #1 Create your Company. Click on the 'Create' button on the top bar, and create a New Company. You will be adding your store under this Company. (Learn more about Companies.) Once the ...

How to Enable Elasticsearch on Breeze?

Elastic Search is an extremely powerful and quick search engine used by lots of eCommerce stores and websites. If you want to use the elastic search on your website, you can enable it from the Breeze tool box. Enable Elastic Search Follow the steps ...