Let's see how to create a store on Breeze in 3 simple steps.
#1 Create your Company.
Click on the 'Create' button on the top bar, and create a New Company.
You will be adding your store under this Company. (Learn more about Companies.)
Once the Company is created, you have to add the SSH Key to the Company.
You can:
Add the Key before creating the Server

Add the Key while creating the Server
We will be adding the Key while creating the Server in this tutorial.
#2 Creating the Server
Click on the 'Create' button on the top-bar and Create a Server.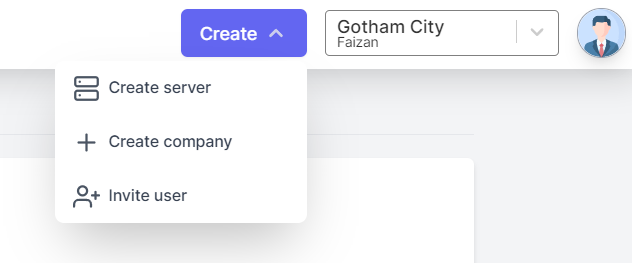 Now it is 4 quick step process:

Step 1: Server Setting
Project Name: Enter the Project Name - It could be your store or brand name,
Cloud provider: You can either go with Breeze Cloud - which is optimized for speed and Magento by experts. Or AWS Cloud if your store requires it.
Location: Select the data centre and server location for your store.
Click on next after filling all the fields.
Step 2: Plan Selection


Select the plan that suits best for your Magento store. If you are in doubt, please contact us, and we will guide you to pick the best plan.
Check our pricing plan.
Note: Elasticsearch and Redis cache add-ons are free.
Step 3: Billing
Add your card for the billing.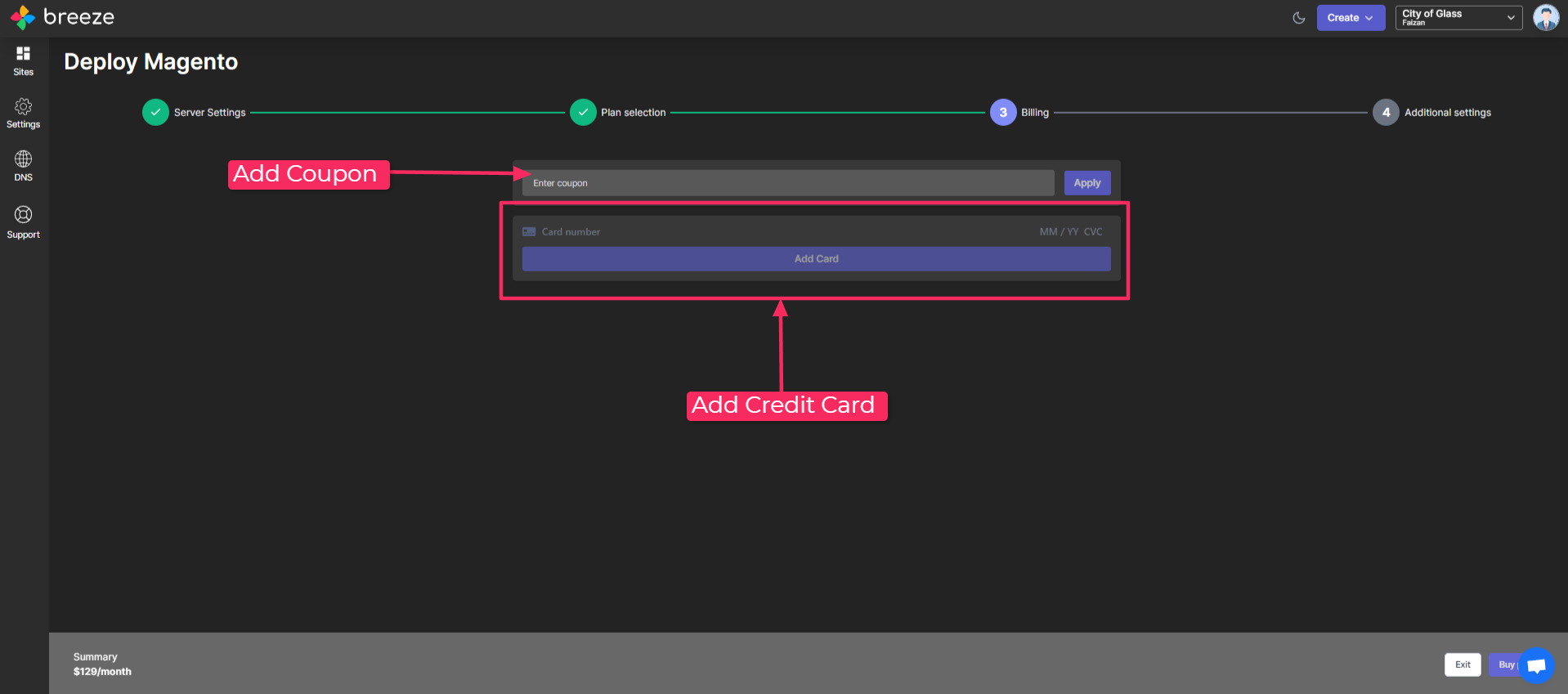 If you have any coupons, you can apply for them here..
Step 4: Additional Settings


Choose Application: You get the latest 2 versions of Magento to deploy. Pick one, else, the latest version will be installed by default.
Domain Setting: You can use BreezeSites.io subdomain as a temporary domain, or you can add your own domain.
You can switch to a registered domain name at any time later by renaming your domain in the domain settings.
Admin Email: Add the email address that you want to have admin privileges.
Admin Path: The admin path is the login URL. It is typically YourDomain.com/admin. But you can change the path name to anything.
Admin Name: Admin name is the username.
Password: The system will generate a strong password. You can copy it and regenerate it.
Server Access: You have to add an SSH key to have server access. You can either add yours or generate a new one.
SSH keys are compulsory to add to the company to create the server. You can add, remove and delete the SSH keys from the Setting >> User.
Once everything is done, click on Deploy, and watch your store in the process.
#3 Deploy
​