How to Backup MySQL Database?
You cannot individually backup only the MySQL database. You can easily create a backup of your store in several clicks.
However, you can exclude media from the backup, in order to reduce the file size.
Backup without media consist:
Code: store coding, any custom solutions and changes

Databse: store's data without media
To do this, follow these steps:
Login to Breeze Platform

Select the Company you want to work on

Open your 'Store'

Click on Backups from the options at the left side

Add a new Backup

Enter a backup-name and leave the 'Include Media' option as it is

Create backup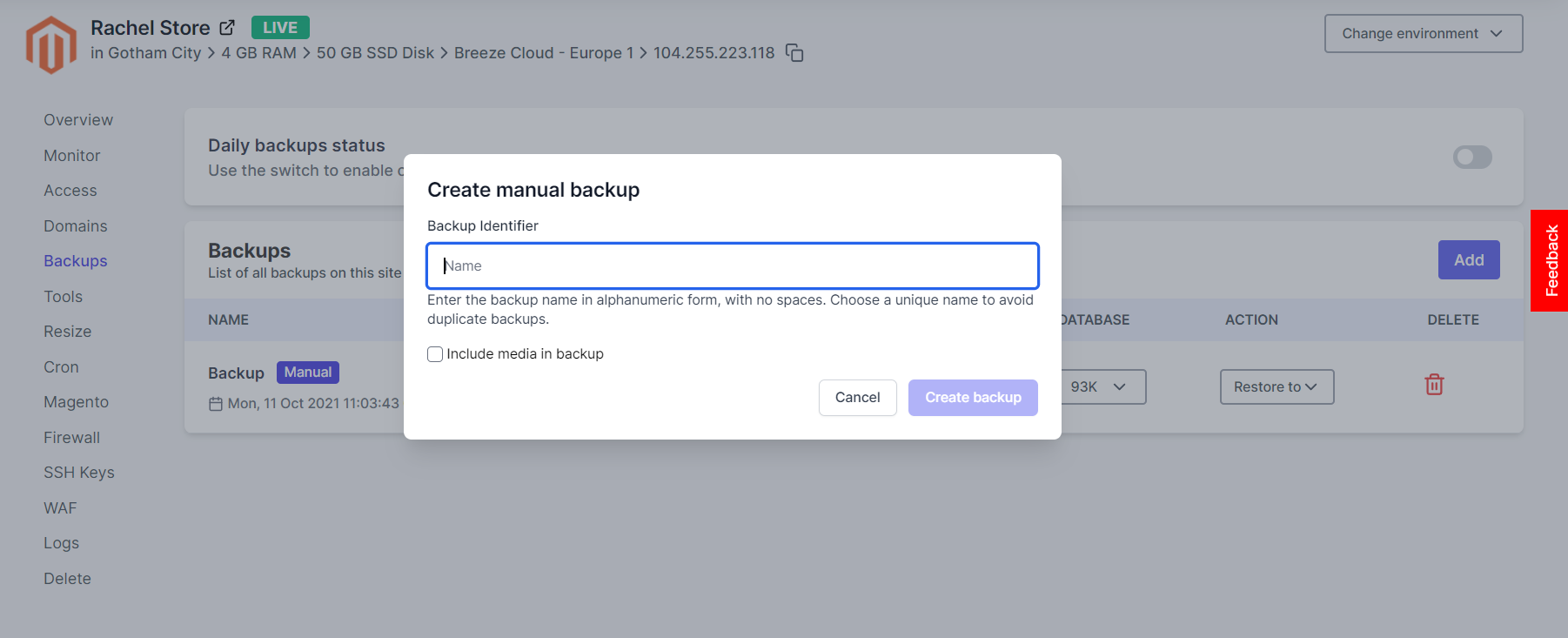 The new backup is media-less backup, consuming less resources and storage.
Related Articles

How to Download Backup of Your Website?

In this tutorial we will download the backup of the website to the local storage. At Breeze, we do the automatic backup, with 7 days retention time. However, if you need to do a manual backup, you can follow this tutorial. Download the Backup Here ...

How to Restore a Backup to Live?

You can quickly restore the backup with the Breeze platform. The backup will restore to the live website. Restoring a backup Follow the steps to restore the backup: Login to your Breeze Panel Select the company you like to work on Click on 'Sites' to ...

Does Breeze Keep the Website Files and Database in the Data Center You Choose?

Yes. You choose the data centre area when you create your server on Breeze. All the files, database, and backups are stored in that data centre you select. We do not transfer your data to any other data centre location. Although we have to fetch ...

How to Access phpMyAdmin?

phpMyAdmin is a free software tool written in PHP, intended to handle the administration of MySQL over the Web. phpMyAdmin supports a wide range of operations on MySQL and MariaDB. You can easily access phpMyAdmin from the Breeze platform. If you ...

How to delete a site from Breeze?

Whether you want to delete it entirely or to remove it from the Breeze platform, you can do so in a few steps. Deleting the website will delete all the database and staging environment of the website. So take backups before deleting the site. ...